Ron Paul calls Covid-19 a HOAX
03-27-2020, 04:31 PM
Ron Paul calls Covid-19 a HOAX
THE CORONAVIRUS HOAX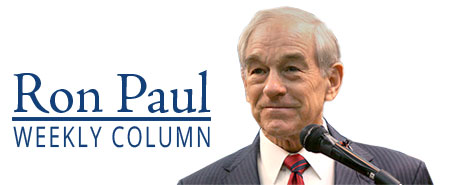 Governments love crises because when the people are fearful they are more willing to give up freedoms for promises that the government will take care of them. After 9/11, for example, Americans accepted the near-total destruction of their civil liberties in the PATRIOT Act's hollow promises of security.
It is ironic to see the same Democrats who tried to impeach President Trump last month for abuse of power demanding that the Administration grab more power and authority in the name of fighting a virus that thus far has killed less than 100 Americans.
Declaring a pandemic emergency on Friday, President Trump now claims the power to quarantine individuals suspected of being infected by the virus and, as Politico writes, "stop and seize any plane, train or automobile to stymie the spread of contagious disease." He can even call out the military to cordon off a US city or state.
State and local authoritarians love panic as well. The mayor of Champaign, Illinois, signed an executive order declaring the power to ban the sale of guns and alcohol and cut off gas, water, or electricity to any citizen. The governor of Ohio just essentially closed his entire state.
The chief fearmonger of the Trump Administration is without a doubt Anthony Fauci, head of the National Institute of Allergy and Infectious Diseases at the National Institutes of Health. Fauci is all over the media, serving up outright falsehoods to stir up even more panic. He testified to Congress that the death rate for the coronavirus is ten times that of the seasonal flu, a claim without any scientific basis.
On Face the Nation, Fauci did his best to further damage an already tanking economy by stating, "Right now, personally, myself, I wouldn't go to a restaurant." He has pushed for closing the entire country down for 14 days.
Over what? A virus that has thus far killed just over 5,000 worldwide and less than 100 in the United States? By contrast, tuberculosis, an old disease not much discussed these days, killed nearly 1.6 million people in 2017. Where's the panic over this?
If anything, what people like Fauci and the other fearmongers are demanding will likely make the disease worse. The martial law they dream about will leave people hunkered down inside their homes instead of going outdoors or to the beach where the sunshine and fresh air would help boost immunity. The panic produced by these fearmongers is likely helping spread the disease, as massive crowds rush into Walmart and Costco for that last roll of toilet paper.
The madness over the coronavirus is not limited to politicians and the medical community. The head of the neoconservative Atlantic Council wrote an editorial this week urging NATO to pass an Article 5 declaration of war against the COVID-19 virus! Are they going to send in tanks and drones to wipe out these microscopic enemies?
People should ask themselves whether this coronavirus "pandemic" could be a big hoax, with the actual danger of the disease massively exaggerated by those who seek to profit – financially or politically – from the ensuing panic.
That is not to say the disease is harmless. Without question people will die from coronavirus. Those in vulnerable categories should take precautions to limit their risk of exposure. But we have seen this movie before. Government over-hypes a threat as an excuse to grab more of our freedoms. When the "threat" is over, however, they never give us our freedoms back.
Copyright 2020 by RonPaul Institute. Permission to reprint in whole or in part is gladly granted, provided full credit and a live link are given.
Please donate to the Ron Paul Institute
---
Those who know, know!
03-27-2020, 04:50 PM
RE: Ron Paul calls Covid-19 a HOAX
six days later, Rand Paul got the Coronavirus

most likely asymptomatic

I wonder what test they used on him.

this is very fishy.
03-27-2020, 04:50 PM
RE: Ron Paul calls Covid-19 a HOAX
the 13 day sashimi stench is getting unbearable at this point

esp. after the 2.2 trillion bailout proposal

americans are truly gullible sheep
03-27-2020, 05:48 PM
RE: Ron Paul calls Covid-19 a HOAX
(03-27-2020 04:50 PM)

pug-thug Wrote: the 13 day sashimi stench is getting unbearable at this point

esp. after the 2.2 trillion bailout proposal

americans are truly gullible sheep
Bye bye USD.
That will probably be the biggest result of this 'crisis', IMO.
But the elites will know what they can accomplish with more crises in the future.
Actually unlikely they will use a pandemic next time. Although I suppose 9/11 did usher in a 'age of terror' for quite a few years. It just took on different forms, and in a few different countries.
03-27-2020, 05:54 PM
RE: Ron Paul calls Covid-19 a HOAX
life has changed so much since 9/11

so it was successful in their eyes

i remember when you could walk into the gates with your relatives who were flying off

see them off before they entered the plane

so it may be the same with PRE COVID and POST COVID

i remember when it was like to go to a rock concert without showing off my vaccine certification

maybe it won't get there, but this thing has shell shocked a lot of the sheep

it has separated people EVEN MORE from each other
03-27-2020, 06:04 PM
RE: Ron Paul calls Covid-19 a HOAX
good to see RON PAUL still at least not totally subverted
03-27-2020, 06:32 PM
RE: Ron Paul calls Covid-19 a HOAX
03-27-2020, 06:32 PM
RE: Ron Paul calls Covid-19 a HOAX
A former CONGRESSMAN is calling the whole thing a HOAX

let that sink in folks!
03-27-2020, 06:57 PM
RE: Ron Paul calls Covid-19 a HOAX
Quote:Amanda25 March 2020 at 14:58
Thank God. Someone with some sense listening to the reality on the ground. Nobody wants to do that---because it's just not as exciting. People love drama. If they can't have it, they'll make it up.

I WORK in a NY state ER and ICU. There is NOBODY getting sick. Being "infected" with a virus does NOT mean ANYTHING--i.e. "getting intubated".

Anybody that walks upright and is over the age of 20---has had a cold sore--commonly referred to as a "fever blister". That is caused by HSV. HERPES SIMPLEX VIRUS. You are INFECTED. Period. For the remainder of your living days. You will have outbreaks every so often---under times of stress or illness--and you may go many many years without an outbreak. BUT YOU ARE INFECTED. FOREVER.

Just because I or anyone else "tests positive" for a virus---does NOT mean they are ill or are becoming ill or will become ill. PERIOD.

I asked some regurgitator staffer yesterday---because he's spewing all the Cuomo bullshite about "30K vents needed"....."So. We have 6 positive C-19 patients here right now. How many are intubated and need a vent?" He said---"I dunno." I said...."ZERO. None. They are not even symptomatic. They are here for other reasons and just happened to test positive. THEY DID NOT COME HERE BECAUSE THEY WERE SICK AND C-19 WAS THE CAUSE. In fact---these patients are going to be DISCHARGED to 'home quarantine' because THEY ARE NOT SICK."

He stared at me. Slack jawed and unbelieving. I said---"So tell me how many of the 'positive' people on THIS PLANET are on vents right now?" He said...."duhhhhhh.. I dunno." I asked..."how many 'infected' have become sick AT ALL?" he responded with the usual..."duerrrfeee.I dunno."

He then followed it up with... .BUT WE NEED 30,000 ventilators!!!! RIGHT NOW!!!!!!!


Reply

Amanda25 March 2020 at 14:58
Part 2

I predicted that this bullshite would start "fading" in about 2 weeks....right after TARP 2.0 on steroids and nitro got passed. Right after creative destruction could occur---the CEOs cashed out, people get laid off only to be brought back with far less wage capacity/negotiating power (because being employed at half your previous wage is better than trying to get unemployment in NY), and people are now afraid OF EACH OTHER because the old tried and true "being afraid of those little brown people who are terrorists living in mud huts in the desert" isn't working so well this time around.

Cuomo is positioning himself as the "Rudy" of the 20's. Don't see the comparison? Nobody remembers that trusted General holding the tiny vial of white powder and convincing the world that the US had to invade Iraq or there would be mushroom clouds all over the globe? How about Bushie passing the PATRIOT ACT in record time after the bullshite that WAS 9/11?

Cuomo needs to shut his pie hole---because people ON THE GROUND are getting really fucking tired of his spewing garbage about things that ARE NOT HAPPENING.

Morgues are NOT "overflowing". Period . I laughed my ass off at that dipshit Snyder's recent "article" about "recovery from this virus" is some stupidly low number. The number of infections is 250K---the number of DEAD is 200 (and I still have not seen any type of autopsy reports that PROVE to me that it was this virus that killed ANYBODY. AT ALL.)---but he touted some stupid number of "recovered" as something like 500.

Um.....so......what about those other 249,500 people who tested positive. They aren't sick--yet they aren't "recovered"?

What a bunch of bullshit for fucking retards. Get out of the house, morons---and go look for yourselves......oh yeah. Cheetoh has the hospitals locked from ANY visitors so nobody can actually SEE what's going on.

Yet----me and my coworkers are NOT GETTING TESTED. In fact---we ran out of N95s a few days ago, along with iso gowns. Anybody give a shit?

No. Because they know. There IS NO DANGER. I don't wear a mask at work. I don't wear iso gear. Neither do any of my ER colleagues. All of the pics you see---are for publicity only. Nobody is wearing this shit---because nobody is in any danger---and the hospitals aren't providing anything extra anyway.

The money in TARP 2.0 on steroids and nitro is for paying the stockholders for their losses. That is what this whole bogus "virus" thing was about.

Cheetoh says---economy is to be reopened by Easter. He should know. He and his buddies manufactured this whole thing.
User(s) browsing this thread: 1 Guest(s)