Study: Millions of Latinos have Partial Jewish Ancestry from Conversos
12-29-2018, 12:44 PM
Study: Millions of Latinos have Partial Jewish Ancestry from Conversos
Latin Americans show wide-spread Converso ancestry and imprint of local Native ancestry on physical appearance
Article | OPEN | Published: 19 December 2018
Latin Americans show wide-spread Converso ancestry and imprint of local Native ancestry on physical appearance
Juan-Camilo Chacón-Duque, Kaustubh Adhikari, […]Andrés Ruiz-Linares
Nature Communicationsvolume 9, Article number: 5388 (2018) | Download Citation
Abstract
Historical records and genetic analyses indicate that Latin Americans trace their ancestry mainly to the intermixing (admixture) of Native Americans, Europeans and Sub-Saharan Africans. Using novel haplotype-based methods, here we infer sub-continental ancestry in over 6,500 Latin Americans and evaluate the impact of regional ancestry variation on physical appearance. We find that Native American ancestry components in Latin Americans correspond geographically to the present-day genetic structure of Native groups, and that sources of non-Native ancestry, and admixture timings, match documented migratory flows. We also detect South/East Mediterranean ancestry across Latin America, probably stemming mostly from the clandestine colonial migration of Christian converts of non-European origin (Conversos). Furthermore, we find that ancestry related to highland (Central Andean) versus lowland (Mapuche) Natives is associated with variation in facial features, particularly nose morphology, and detect significant differences in allele frequencies between these groups at loci previously associated with nose morphology in this sample.
Introduction
The history of Latin America has involved extensive admixture between Native Americans and people arriving from other continents, particularly Europe and Africa1,2,3. Most genetic studies carried out to date have examined this process mainly in relation to variation in overall Native American, European and Sub-Saharan African ancestry across regions and between individuals2,3,4; with small and geographically-restricted East Asian ancestry also reported5,6,7. In addition, some genetic analyses have sought to detect regional ancestry within the three major continental components, i.e. the sub-continental origins for individuals having contributed to admixture in Latin America. For instance, mtDNA and Y-chromosome data suggest that historical admixture in North West Colombia involved local Native women, and that some immigrant men carried haplogroups common in Jewish populations8. The inference that historical admixture of Latin Americans in specific regions involved Natives with a relatively close genetic affinity to those currently living in the same areas was subsequently supported using genome-wide autosomal data9,10. Recent genome-wide SNP studies (GWAS), partly implementing haplotype-based analyses, have further expanded the notion that the demographic shifts of the last few generations have not entirely erased signals of historical population structure in Latin America6,11,12,13,14,15. A finer characterization of the admixture history of Latin America would benefit from a more extensive sampling across the region, as well as from further methodological improvements (including fully haplotype-based analyses and improved modelling approaches) and a wider survey of reference population samples (from areas potentially contributing to Latin American admixture).
The broad significance of characterizing these fine-grained patterns of human genetic diversity in Latin America is emphasized by the realization that geographically-restricted genetic variation is potentially a key component of the genetic architecture of common human phenotypes, including disease16. Furthermore, studies of regional human genome diversity, and its bearing on phenotypic variation, have so far been strongly biased towards European-derived populations17. The study of populations with non-European ancestry is essential if we are to obtain a more complete picture of human diversity. Latin America represents an advantageous setting in which to examine regional genetic variation and its bearing on human phenotypic diversity18, considering that the extensive admixture resulted in a marked genetic and phenotypic heterogeneity2,3,19. Relative to disease phenotypes, the genetics of physical appearance can be viewed as a model setting with distinct advantages for analyzing patterns of genetic and phenotypic variation. Many physical features are relatively simple to evaluate, show substantial geographic diversity and are highly heritable. We have previously shown that variation at a range of physical features correlates with continental ancestry in Latin Americans19 and have identified genetic variants with specific effects for a number of features20,21,22.
read entire study:
https://www.nature.com/articles/s41467-018-07748-z
---
Those who know, know!
12-29-2018, 12:44 PM
RE: Study: Millions of Latinos have Partial Jewish Ancestry from Conversos
like I was telling HA, the number of people with partial jewish ancestry is HUGE

100 million plus at least
12-29-2018, 12:45 PM
RE: Study: Millions of Latinos have Partial Jewish Ancestry from Conversos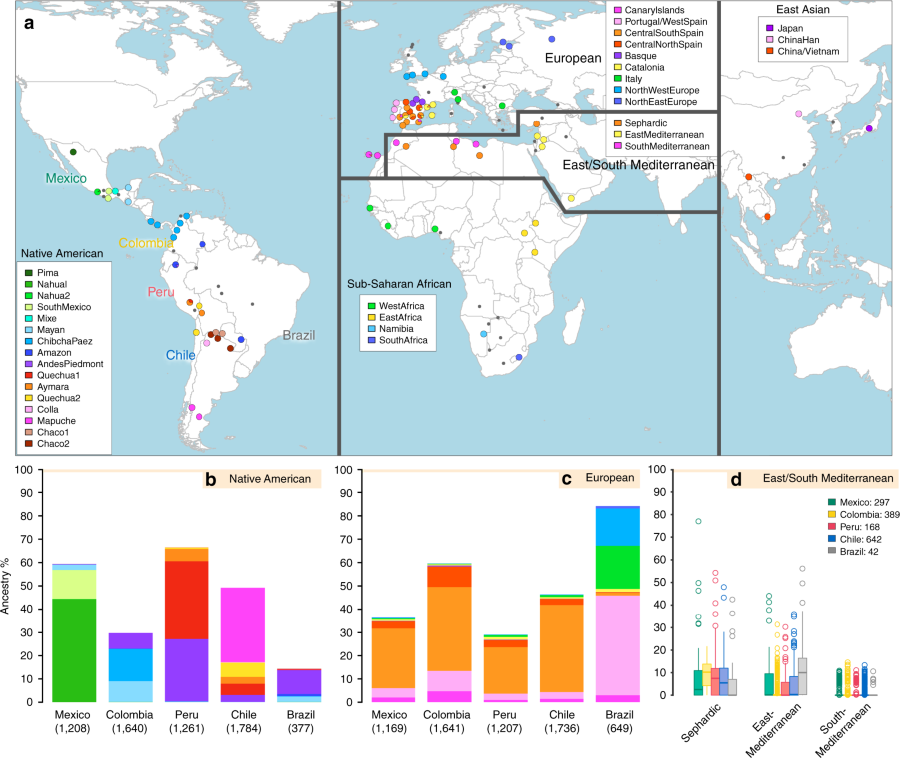 12-29-2018, 01:14 PM
RE: Study: Millions of Latinos have Partial Jewish Ancestry from Conversos
ALEXANDRIA OCASIO-CORTEZ: I COME FROM SEPHARDIC JEWS WHO FLED TO PUERTO RICO
"So many of our destinies are tied beyond our understanding." Ocasio-Cortez said regarding her family lineage.
https://www.jpost.com/Diaspora/Ocasio-Co...ico-573923
12-29-2018, 01:26 PM
RE: Study: Millions of Latinos have Partial Jewish Ancestry from Conversos
12-29-2018, 01:29 PM
RE: Study: Millions of Latinos have Partial Jewish Ancestry from Conversos
New Genetic Study: 150 Million People of Spanish Ancestry With Possible Jewish Roots
By Adam Eliyahu Berkowitz December 23, 2018 , 5:15 pm
"He took him outside and said, "Look toward heaven and count the stars, if you are able to count them." And He added, "So shall your offspring be." Genesis 15:5 (The Israel Bible)
A recently published study surveyed the DNA of Latin Americans and revealed that despite immigration restrictions, many more bnei anousim (Jews forcibly converted during the Inquisitions of Spain and Portugal at the end of the 15th Century) arrived in the New World than previously thought. The results indicate that there may currently be over 150 million Latinos with Jewish ancestry.
The study, published in Nature last Wednesday, was one of the most comprehensive genetic surveys of Latin Americans ever. Their Jewish ancestry is more pronounced than in people in Spain and Portugal today, indicating that a significant segment of the immigrants that settled the New World were of Jewish descent.
"We were very surprised to find it was the case," says Juan-Camilo Chacón-Duque, a geneticist at the Natural History Museum in London, who co-authored the paper.
Chacón-Duque and his colleagues sampled DNA from 6,500 people across Brazil, Chile, Colombia, Mexico, and Peru, which they compared to that of 2,300 people all over the world. Nearly a quarter of the Latin Americans shared five percent or more of their ancestry with people living in North Africa and the eastern Mediterranean, including self-identified Sephardic Jews.
It is no surprise that a large portion of the population descended from Spain have Jewish ancestry. It is estimated that when the Spanish Inquisition began in 1478, approximately one-fifth of the Spanish population, between 300-800,000 people, were Jews. By 1492, when the Alhambra Decree gave the choice between expulsion and conversion, the number had dwindled to 80,000, half of who migrated. The vast majority of Jews converted with many of them retaining their Jewish identity in secret. The most intense period of the Spanish Inquisition lasted until 1530 and the last trial took place in Spain in 1818.
Ashley Perry, head of the government caucus for the descendants of Jews of Spanish and Portuguese Jewish communities, was surprised by the results:
"This study indicates that there are far more people of Spanish descent that have Jewish roots than previously thought, not only South Americans but also Latinos living in North America. As a result of this DNA research, it is now estimated that one-quarter of all Latinos in North America have five percent Jewish ancestry."
Perry noted that the study only dealt with one specific population that may have Jewish roots.
"There are also a significant number of people in Spain, Portugal, and Italy who have a very high percentage of Sephardic Jewish ancestry," Perry said. "I used to think there were 100 million people in the world that had Jewish roots but it now seems the number is closer to 200 million."
https://www.breakingisraelnews.com/11914...ish-roots/
12-29-2018, 03:05 PM
RE: Study: Millions of Latinos have Partial Jewish Ancestry from Conversos
(12-29-2018 01:26 PM)

pug-thug Wrote: here is the website for Latinos to reconnect with their jewish roots.

http://reconectar.co/
Portuguese in particular have much reconnecting to do.
---
the Winnson shama knew
User(s) browsing this thread: 1 Guest(s)