Subliminal storytelling and influence in Hollywood movie "Rush"
07-12-2018, 10:46 PM
Glimmer
Senior Member


Posts: 1,043
Joined: Feb 2017
Reputation: 501
Subliminal storytelling and influence in Hollywood movie "Rush"
Edit: I decided to post this thread from the Cinema & Series thread in the mainforum due to relevance of the subject and better exposure
Subliminal story told in Rush
The underlying plot
How bad conquers good
So the other day the movie
Rush
was on TV, i already saw it a couple of years ago and liked it. While watching it something peculiar stroke me about the story and underlying message the director (Ron Howard) is telling us.
The 2 main characters, Niki Lauda and James Hunt are total opposites of each other, which you can find often in Hollywood productions. So Niki is portrayed as the hard working, honest, clever and "pure" character, James Hunt is the sloth, drinking, smoking, fucking and overall shows the more vicelike behaviour character. These
traits the characters have can be derivatived from the 7 sins and virtues paradigm
Sin:
Lust
Gluttony
Greed
Sloth
Wrath
Envy
Pride
Virtue:
Kindness supersede them
Temperance
Charity or love
Chastity or Self-control
Humility
Diligence or Zeal
Patience
At some point in the movie James is left by his wife, she is still reasonable and portrayes a "good" wife before she made her choice. But after James persisstent drinking and destructive manourisms, she lefts him for a rich guy who isn't named for some reason.
Later on in the movie they meet in a bar. James is sitting there trying to win his wife love back but she laughs at him while the camera zooms in on her necklace. The Necklace is consisting of a expensive but
subtle eye of horus sign
. Couldn't find a shot of the necklace though so you have to wacht the movie yourself.
She seemed changed.
She strikes as more materialistic, trying to make James envy her, uses low moral, and a lot of disdain for James. All very subtle but obvious when noticed.
While married:
Looks sincere, looks worried about James his behaviour
In the bar, after divorce
the little grin, the disdain she radiates. She has tipped over to the materialistic side
Also notice the earrings.
About half in the movie, when James lost his wife, his career and about everything due to his bad behaviour there is a turning point. Which is marked
by a handsignal of the commentator at the race.
You see the devilhorns?
Who is this guy and who told him to make this sign? Is it the director Ron Howard?
From this moment on things will turn out good for James and bad for Niki.
Underlined at the startingpoint by AGAIN the commentator. The person who reports the race but also can make or brake a person with his reports. Very subtle but i guess an excellent metaphor for the powers that be.
It's the race where Niki will crash and burn. Niki will crash because on of the screws in his car gets loose. Sending him in the wall where he eventually gets on fire and needs to be resqued.
So watching this movie you got subtly told that vanity, sloth, drinking, fucking etc. are good traits, celebrated and which will eventually get you to a world championship. And the good traits Niki examples, will get you burned, true hell and in the end give up.
But ofcourse that isn't the message. The real message is
No need to work hard, achieve goals or whatever.
Do as you please
and take example of this character James Hunt so you can rectify your own behaviour and stop trying to achieve. See where it gets you.. everybody is doing it.
This is subliminal influence in optima forma.
I guess you can see this kind of underlying plost back in a lot of movies but this one for me told the story.
Also notice the movieposter: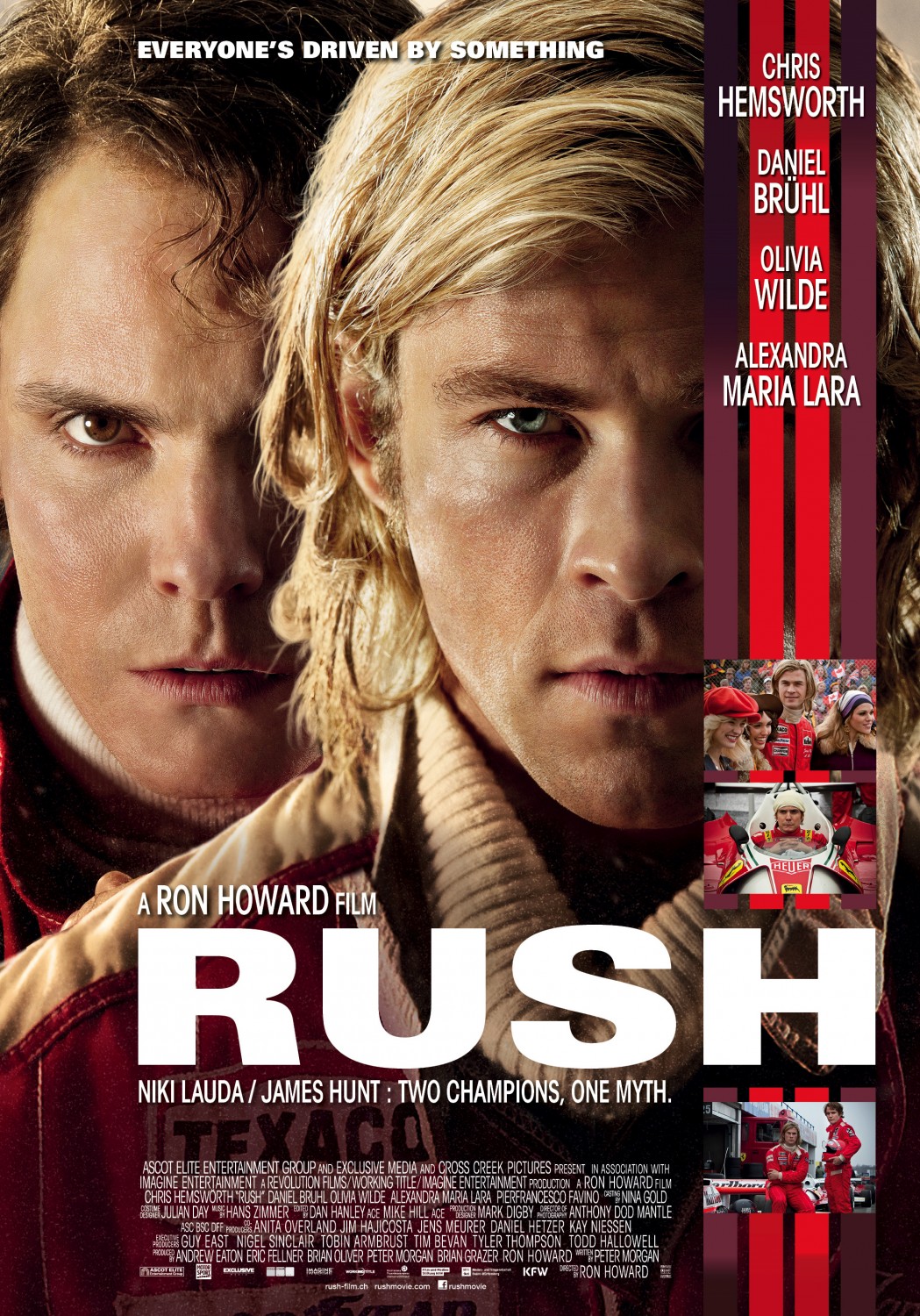 Besides the obvious illuminati references it is still a good movie and enjoyable to watch.
---
Ask for the blue pill. The rabbit hole isn't that nice
07-12-2018, 11:20 PM
(This post was last modified: 07-12-2018 11:22 PM by DonJohnson.)
RE: Subliminal storytelling and influence in Hollywood movie "Rush"
the ugly, self controlled, silent with false humility(he clearly isn't humble) are usually the villains irl. that is the exact profile of all politicians. they are always villains. in order to rise up in the political atmosphere it's who can pretend and control themselves the best.


they are the pedophiles and rapists in the dark while appearing to be against pedophilia and rape. false humility is one of the most evil things.



the other man walks to a strip club through the front door. not the back. the blonde dude is more like Donald Trump. he has made his mistakes but he's open and honest about them. if given the choice i'd choose someone like him as the lesser evil.

the quiet calculating false humble dude is always the evil one irl. being ugly adds to the chip on his shoulder. direct personality vs indirect.


this is why pedophiles are never good looking.
07-12-2018, 11:24 PM
(This post was last modified: 07-12-2018 11:25 PM by DonJohnson.)
RE: Subliminal storytelling and influence in Hollywood movie "Rush"
how people perceive the closed in, controlled, humble, intelligent man as trustworthy and great is how the masses are conned time and time again by this type of person.


a loud, drunk redneck isn't your problem. the problem is the polished, controlled, silent bankers who you meet at a charity ball. they are such classy virtuous people a fool would say.
User(s) browsing this thread: 1 Guest(s)