The Dutch Muay Thai Style
05-18-2018, 07:18 PM
(This post was last modified: 05-18-2018 08:02 PM by Glimmer.)
Glimmer
Senior Member


Posts: 1,689
Joined: Feb 2017
Reputation: 777
The Dutch Muay Thai Style
Dutch Muay Thai is a distinct form of Thai style kickboxing. Although it originates from the Thai version, there are obvious differences between the two disciplines, both in techniques used and training methods utilized.
Many Dutch trainers came from a background in the art of
Kyokushinkai karate
which is a very hard and aggressive fighting style and this was a major influence in the development of Dutch style Muay Thai.
Thai kickboxing is generally more relaxed, both in stance and application of techniques. Fighters either stay at range trading shots or clinch for long periods of time. Another difference is that in Thailand, fighters do not attack with low kicks or boxing combinations as much as western style versions of the art due to the differences in rules and scoring criteria.
The Dutch version of Muay Thai on the other hand is relentless in hunting down opponents and relies more on low kicks and boxing combinations than the Thai version. Dutch fighters compete in various kickboxing sports with different rules and in recent history train more for K1 and Glory kickboxing rules. Another significant difference is the unique Dutch kickboxing method of combining relentless low kicks with boxing punching variations and especially body shots.
This article is not focused on Muay Thai as a sport, its rules and scoring criteria but is more geared towards the fighting effectiveness of the art. The main focus is the application of Muay Thai in the sport of MMA, so all techniques analyzed here can be used in the cage and can be applied in combination with other tools of the art.
Fighting modes
There are generally three fighting modes in Dutch style Muay Thai:
1. Attacking with a series of long or short combinations that are designed to make it very hard for opponents to defend and aim at vital points with hard shots. There is no point-fighting mentality in this aggressive style of fighting. Punches to the liver are often the target of choice.

2. Counterattacking with shots designed to catch opponents off guard before they are able to pull back and regroup. Timing is very essential in the application of counterattacking combinations.

3. Utilizing vicious knee attacks from the clinch and the half clinch. A famous example of this aspect of Dutch kickboxing is Alistair Overeem. Elbows are also used but knee attacks are the most effective weapons in the arsenal of a Dutch style kickboxer.

These fighting modes are cultivated through the application of proper rhythm in mittwork sessions and through the constant use of full power in all attacks and blocks. However, the essential tool that is used by Dutch style fighters in order to develop their skills is hard, reality-based sparring. Sparring partners will not go easy on you in Holland and this forces you to keep your defense and offense on point.
This does not mean that fighters in Thailand do not spar hard or that they lack striking power. Quite the contrary. My analysis must not be perceived as a form of disrespect to Thai fighters and their art. Fighters in Thailand are undoubtedly very tough. However their focus is more on the intricate details of each individual technique and whip-like, technical power whereas Dutch trainers focus more on aggressive, powerful combinations and fighting from advantageous angles. This can be easily observed in the different styles of pad-work sessions between the two styles.
Dutch style Muay Thai and individual athletes.
If you follow my work you know that I am a fan of Bruce Lee concepts and as such I believe that it is the individual that ultimately shapes the fighting style and not the other way around. Following this mindset, we will focus on four legendary Dutch kickboxers:
Ernesto "Mr. Perfect" Hoost,
Peter "Dutch Lumberjack" Aerts, Rob "Mr. Low kick" Kaman, and Ramon "the Diamond" Dekkers.
All four fighters have very effective personal styles of Dutch kickboxing and we will examine their individual techniques in this and future posts.
Rob Kaman
Rob Kaman signature lowkick combination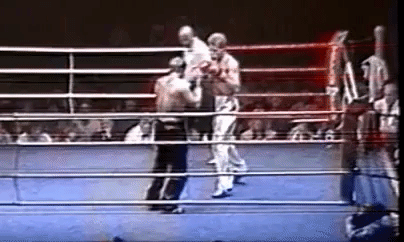 Description:
This is a common offensive combination in Dutch style Muay Thai. Rob Kaman closes the distance with a right cross and finishes with a left hook and a right low kick. The left hook is very important in landing the right low kick. In order to block the left hook, opponents have to put weight on the left foot and this makes it difficult to shin-block the incoming kick. This is one of the reasons why fighters need to set up low kicks with punches. Another reason is that mixing things up by attacking from high-right to high-left to low-right distracts your opponents making it impossible for them to anticipate your attacks. Keep in mind that a solid block with the knee has the ability to injure the kicking leg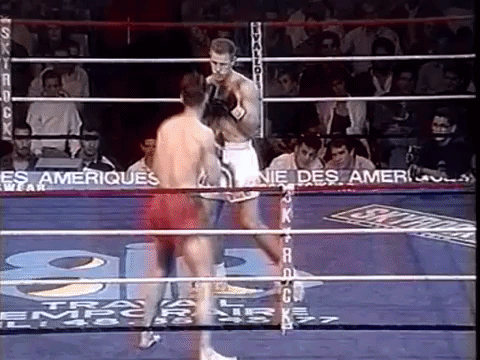 Peter Aerts
Peter Aerts was a fearless fighter and a true warrior. His technique seemed a bit clumsy to the untrained eye but he threw everything with power and had no quit in him. He loved to throw aggressive knees from the clinch. In the photos above against Andy Hug, you can notice how Aerts extends his arms in a way that resembles punching attacks and jumps forward gets the Thai plum and lands a vicious right knee to the body. A knee by an aggressive 6 ft 3 1⁄2 in, 231 lb charging fighter like Aerts was often devastating.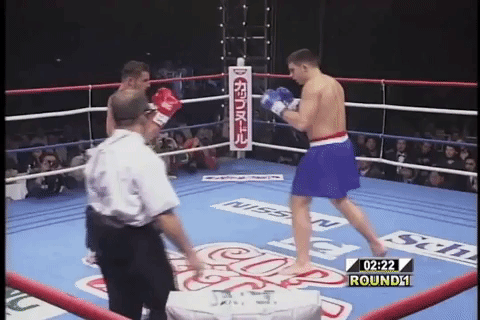 Peter Aerts had a devastating right high kick. He would often hide it behind punches or pushes thus preventing his opponent from noticing the kick until it was too late. In this example he uses a left hook while charging in, forcing his opponent to move to the right where Aerts' right high kick was already moving towards. Aerts scored several right high kick KOs throughout his career.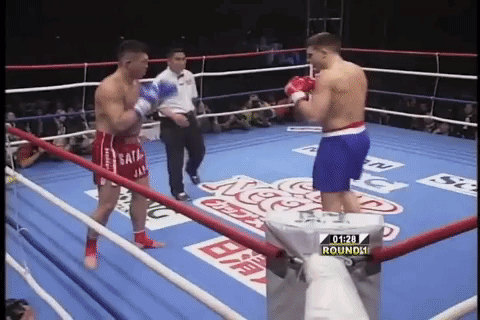 Here is another example of a devastating right high kick.
Jérôme Le Banner
is in a southpaw stance and attacks with a right jab. Peter checks the distance by touching his opponent with his right cross as he pulls back and this hides his incoming right high kick. The kick connects and drops Le Banner. Aerts would often use his right hand as a range-finder: if the right hand was near his opponents face, this was and indication that his right shin could reach the neck. It was a frightening experience to watch the right kick landing.
I really enjoyed watching Aerts go to war. His devastating high kicks, earned him the nickname "The Dutch Lumberjack." A three-time K-1 World Grand Prix Champion, he is widely considered to be one of the greatest heavyweight kickboxers of all time.
It is time for us to examine how Aerts uses his left push-guard to hide land a left high kick. Here, Aerts misses with a right high kick and as
the great Andy Hug
tries to close the distance, Peter pushes him away and lands a hard left high kick thus dropping Hug. Again, Aerts uses the hand connection as a range-finding/keeping method.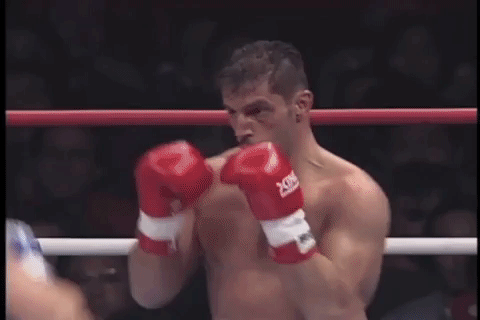 ---
Ask for the blue pill. The rabbit hole isn't that nice
05-18-2018, 08:05 PM
Glimmer
Senior Member


Posts: 1,689
Joined: Feb 2017
Reputation: 777
RE: The Dutch Muay Thai Style
Ernesto Hoost "Mr Perfect"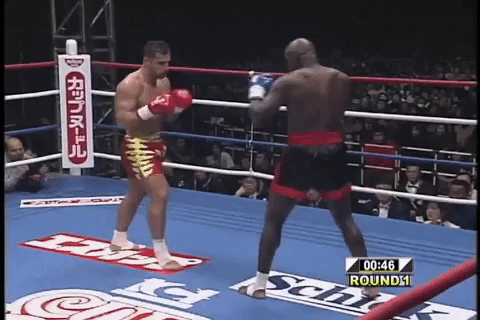 Here, Hoost again uses his left uppercut in order to penetrate his opponent's high guard, to distract him and land a left hook to the body AKA "a liver punch." Ernesto jabs-out to a safe distance, misses with a right cross but keeps the right hand extended. Finally, he traps Hug's right hand, checks the distance and lands a right low kick.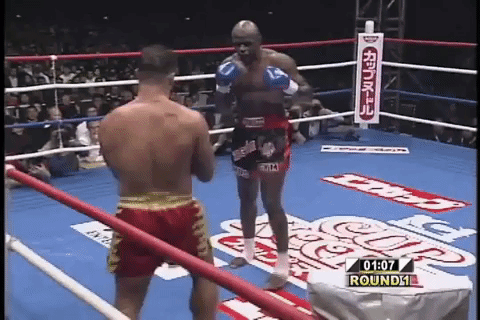 Third and final uppercut-based combo. Here Hoost attacks with a right cross, left uppercut, right cross and finally extends his left hand and connects with a left low kick, landing on his southpaw opponent's right thigh. Unlike Aerts who uses full force in all techniques, Hoost often semi-connects with punches in order to feint or check the distance.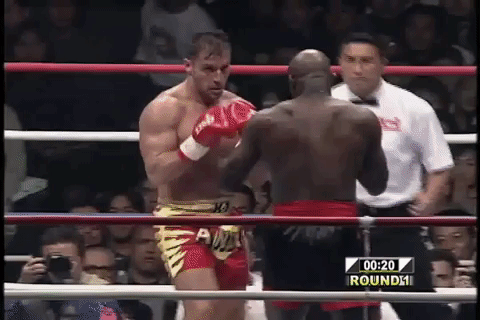 Hoost is a four-time K-1 World Champion, and is also considered to be one of the greatest heavyweight kickboxers of all time along with Kaman and Aerts.
05-18-2018, 08:16 PM
Glimmer
Senior Member


Posts: 1,689
Joined: Feb 2017
Reputation: 777
RE: The Dutch Muay Thai Style
the late
Ramon Dekkers "The Diamond"
All fighters listed here are some of the greatest kickboxers of all time but
Ramon Dekkers (4 September 1969 – 27 February 2013
) has a special place in the heart of fight fans around the world.
Ramon, an eight-time Muay Thai world champion was an exciting fighter due to his fast-paced, aggressive, and fearless fighting style. Dekkers had the courage to fight famous Thai champions in their own country. As a recognition for his fighting spirit, on the occasion of the 85th anniversary of the King of Thailand, Dekkers received a royal award from the Thai Royal Family for his services to the sport and was also appointed ambassador of all foreign fighters in Thailand.
Ramon was a true "diamond" for the sport of Muay Thai.
In regards to his technique, what made Ramon unique was
his speed and his ability to change gears and modify the rhythm of his attacks by mixing long powerful attacks with short, machine-gun-like rapid punches. He often utilized long combinations consisting of more than 10 moves in a row.
As I mentioned before, Dutch style kickboxers
love liver punches
. Here Ramon attacks with a left hook, a left hook to the body and finally lands a hard low kick. Notice Dekkers' head is in front of his opponent's right shoulder as he connects with the liver punch and this helps the right low kick land from an angle that makes it very difficult for his opponent to notice or defend.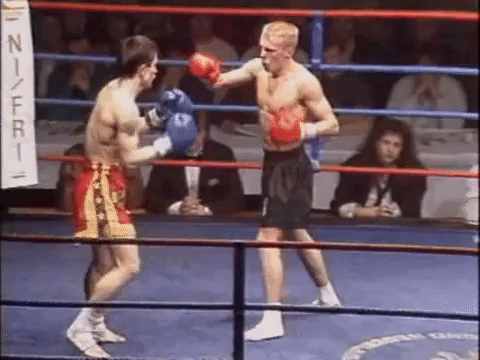 Ramon's opponent is with his back against the corner of the ring and attacks with a right teep (straight push kick). Dekkers grabs the kick with his left hand and and attacks with a right cross and a crushing liver punch that drops his opponent. Liver punches and kicks are very effective attacks.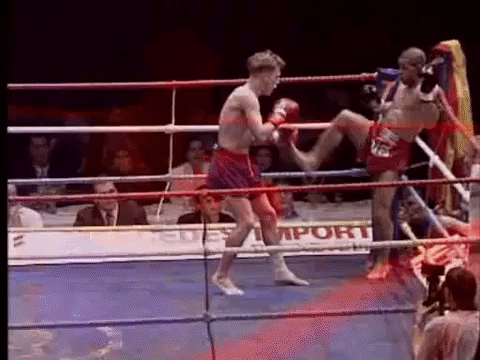 Ramon loved to fight fire with fire. Here his opponent attacks with a left high kick. Dekkers blocks and grabs the kick with his left hand and pushes the leg down in order to attack the landing leg with his right low kick. Counterattacking kicks with leg kicks is a common tactic in Dutch Muay Thai. Timing is essential in this as the opponent is out of balance or in a compromised angle for a split second.
Ramon Dekkers vs Coban 2
On 8.07 When he picks up a struggeling Coban just to deliver another knee to the body. Viscious..
Dekkers had to make up for the first fight which he lost.
05-18-2018, 09:26 PM
Glimmer
Senior Member


Posts: 1,689
Joined: Feb 2017
Reputation: 777
RE: The Dutch Muay Thai Style
User(s) browsing this thread: 1 Guest(s)