---
Bitcoin Bloodbath - pug-thug - 03-12-2020 11:02 PM

where is shah?

6,138.80
-1,733.48 -22.02%


---
RE: Bitcoin Bloodbath - pug-thug - 03-12-2020 11:13 PM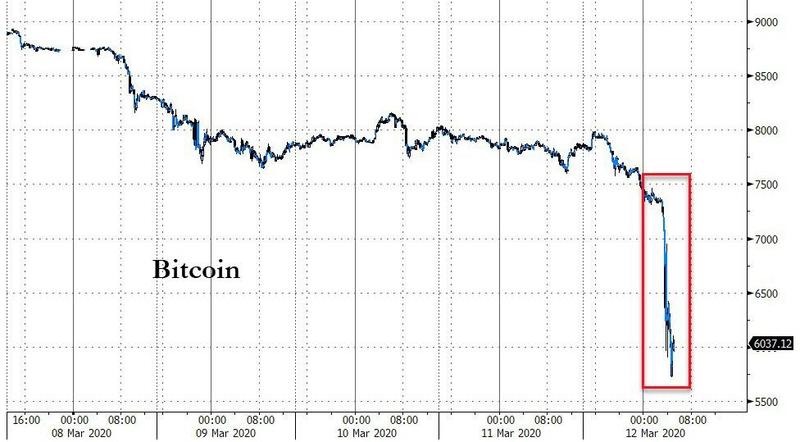 ---
RE: Bitcoin Bloodbath - pug-thug - 03-12-2020 11:13 PM

this is what you call CAPITULATION


---
RE: Bitcoin Bloodbath - The Diet Butcher - 03-13-2020 12:53 AM

I follow this guy for coronavirus updates as he is based in HK. But apparently he also does bitcoin videos.






---
RE: Bitcoin Bloodbath - karasu - 03-13-2020 03:57 AM

as a Blue Chip Chap, fortunately I still know nothing about Bitcoin


---
RE: Bitcoin Bloodbath - Chaos Reigns - 03-13-2020 04:59 AM

Huge crash. I have actually been checking it the last few days, and was surprised to see it wasn't down more.

It as at $10,0000 USD a month ago.

The best part is they can't claim that BTC is a 'safe haven' any more (or at least not right now).

Looks like everything is down right now, though, to be fair. Bleeding. Man, boomers must be pissed.


---
RE: Bitcoin Bloodbath - Redneck - 05-22-2020 07:56 PM

It went up to over 10k this month.

I still had about 1/8 of bitcoin that I'd bought at 3.5-4k back in 2018 and I had some other crypto that I paid a lot for in 2018, but decided to take a loss on them and I have converted everything into Bitcoin now.

I've now got a whole 1/4 of bitcoin, lol. But I intend to keep selling it on the highs and buying it on the lows to build that number.

I'm not into crypto at all, but I figure that Bitcoin is a bit like Gold and Silver, you should have some in case your normal funds are cut off for some reason.


---
RE: Bitcoin Bloodbath - pug-thug - 05-22-2020 08:06 PM

the problem with bitcoin is that it takes too much energy/electricty to mine.
it's not eco-friendly


---
RE: Bitcoin Bloodbath - Redneck - 05-22-2020 08:24 PM

I just got back into it the other day, when I saw the high prices.

The online crypto exchanges are interesting, a cross between video games, the casino, and the stock market. I figure I will play with what I have and see if I can increase it without investing anymore money into it.

It's more like a game to me than anything, but I do think it is handy to have some.


---
RE: Bitcoin Bloodbath - pug-thug - 05-22-2020 08:27 PM

money is losing its value, esp. in the age of covid
govt printing up trillions out of thin air and handing it out so you can toilet paper on amazon

OY VEY


---