The grandson of Joseph Stalin has failed in his attempt to win damages from a liberal Russian newspaper that called Stalin a "bloodthirsty cannibal" and said he was responsible for the wartime murder of Polish officers.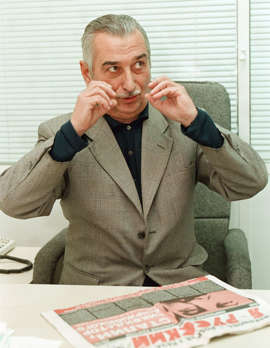 Russian Colonel Yevgeny Dzhugashvili, the grandson of former Soviet dictator Josef Stalin.
The European court of human rights on Thursday rejected the complaint by Yevgeny Dzhugashvili, who had filed a defamation suit against Moscow's Novaya Gazeta newspaper. A Russian court threw the case out in 2010. Dzhugashvili – the off-spring of Stalin's ill-fated son Yakov, from the dictator's first marriage – took the issue to Strasbourg. He claimed the original court's decision violated article eight and his right to respect for private and family life.
The court, however, decided that Stalin "inevitably remains open to public scrutiny and criticism". It said there was a distinction between private life and the legitimate criticism of major historical figures. "The decision is final," the court said, in a unanimous ruling.
Novaya Gazeta, one of Russia's last independent news outlets, published two extensively researched articles on Stalin in 2009. Written by Anatoly Yablokov, they examined the infamous Katyn massacre of 1940, when the Soviet NKVD secret police executed thousands of Polish prisoners of war in a remote forest in Russia.
Moscow hushed up the crime for 50 years, blaming it on the Nazis.
The article argued that the Soviet Politburo, including Stalin, had signed the order to shoot civilians. The Soviet leadership had, it said, "evaded moral responsibility for this extremely serious crime". An angry Dzhugashvili then sued Novaya Gazeta and demanded £180,000 in damages.
Speaking in 2009, Yablokov, a former Russian prosecutor, said the legal case would have been unthinkable in the past, but had become depressingly possible in light of recent Kremlin moves to rehabilitate Stalin and to portray him as an efficient leader. "There is a change in society's view of Stalin," Yablokov said in 2009 at a preliminary court hearing. "We hear much more now about what an effective manager Stalin was, much more than in the 1990s, and much less about the repression."
Dzhugashvili's father, Yakov, was one of Stalin's four children, produced during a love life that included two wives and many mistresses. Yakov's relationship with Joseph was little short of disastrous. The two didn't get on. He shot himself because of Stalin's callousness towards him, but survived. The Germans captured Yakov during the early stages of the second world war, while he was serving with the Red Army. Hitler offered to swap him for Field Marshal Friedrich Paulus, who had surrendered at Stalingrad, but Stalin refused.
Yakov – who had two children, Yevgeny and Gallina – died in a German concentration camp in 1943. He was probably shot, but may have run into an electric fence. Now 79, Yevgeny lived for some years in Tbilisi, the Georgian capital, a short drive from Gori, Stalin's birthplace. He is now a resident of Moscow. During his career, Dzhugashvili served as a colonel in the Soviet and Russian air force, briefly toyed with politics, and in 1999 stood for Russia's state duma as a representative of a group of communist parties.
http://www.msn.com/news/world/stalin%E2%...id=UP97DHP