Teen 'rioter' outs himself on cops' Facebook page
This photo of Luis Rodriguez was posted on the Anaheim Police Department's Facebook page. (supplied)
A teen rioting suspect's vanity got the better of him when he 'liked' a photo of himself partaking in an alleged crime spree after it was posted on Facebook by the police.
Luis Enrique Rodriguez, 18, was one of 25 people wanted for questioning over a riot at a Huntington Beach surf competition on July 29.
Shops were looted, police cars vandalised and several people including police officers were injured in the mayhem, which was caught on camera.
Anaheim Police scoured footage of the riot and last week posted a series of photos on their Facebook page asking members of the public to help identify the alleged culprits.
Two days later, a friend of the Anaheim teen tagged him in a photo showing him sitting on a police car.
Rodriguez, who is wanted for writing "f--- the pigs" on a police car, responded by liking the post and sharing it on Facebook.
Huntington Beach police said the teen's brag made it easy to track him down.
"Mr Rodriguez, apparently proud of his actions, 'liked' the Huntington Beach Police Department's picture #15 and shared it with his friends," the police posted.
"[The post] was noticed by many fans of our Facebook page and a series of tips leading to his identification."
The teenager has since been arrested and charged with vandalism.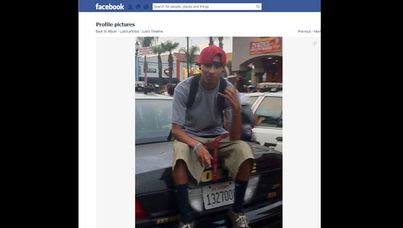 http://news.ninemsn.com.au/world/2013/08...ebook-page