Since Square is the new hip, it's to be expected that many disingenuous people are going to try to ride the Pro-Trump Populist, Alt-lite wave.
Exhibit A:
Candice Owens

aka '

Red Pill

Black'
Last year, Candice was a TED talks leftist rallying against Internet 'Hate-Speech' and failed in her attempt to crowdfund an online doxxing service called "Social Autopsy". The service was intended to crawl social media websites and collect personal information on individuals, and then allow users or snitches, taddle-tales, censorship police etc, to upload specific screen-shots or tweets that could be collected, stored and then used later to 'out' the person to their friends, family or employer.
The left spit her out and chewed her up when she said that even children needed to be held accountable, and that their names and addresses would be publicly visible on her platform.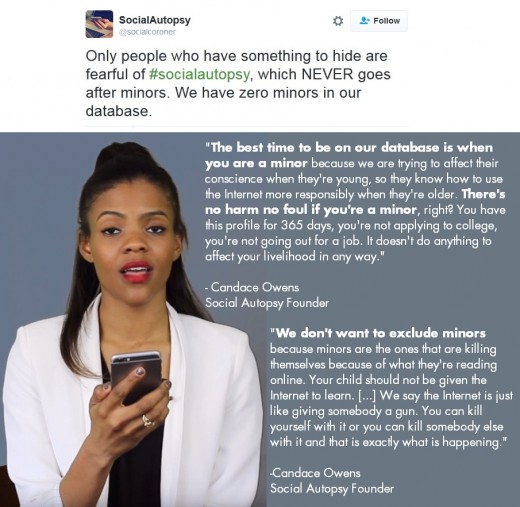 This year, Candice Owens is 'Red-Pilled' and black in action. She crafted a sob story about getting bullied by the left over her innocent "Anti-Bullying Service" and was promptly interviewed, uncritically by Alex Jones, Paul Joseph Watson, Dave Rubin, Mike Cernovich, Stephan Molyneux, and others.
She was an instant success and got 150k YouTube subscribers in her first month. She very well might be generating enough crowd funding through
her Patreon
with her current 1,100 contributors to finally collect the $70k she was asking for to start SocialAutopsy.com and finally complete the project.
Here is a complete video summary of the drama: